Experience
With over 35 Years of experience, we are able to provide our customers service they can trust.
Educate Yourself
Do your homework and educate
yourself before you purchase air conditioning equipment or service.
Support
Contacting Allstate Air and Heat Inc. is a click away. You'll find all the contact info you need to get help FAST!
welcome
welcome to comfort
Our slogan speaks for itself. You're just a call away from the Comfort you deserve. When it's hot enough to bring you to your knees, we're just a call away!

Allstate Air and Heat, Inc., is one of Central Florida's premier heating and cooling experts. An exceptional air conditioning and heating contractor in Melbourne, FL, founded upon solid business principles and true Christian values, you can't go wrong with Allstate Air and Heat, Inc. Our priority is customer satisfaction.

Let us help you with those "Hot rooms" or "Cold rooms", Allergy issues or Dust problems, Mold or Mildew issues. We can provide you with TRUE answers on your home and system problems and back them up with Science.

We can help with the dust and allergy problems your family may be having by addressing the source of the problem and not just filtering it AFTER it enters the home. If you have a roof leak you would just keep placing buckets around the house, would you? You'd want to keep the water from coming in in the first place!

Other contractors will sell you an expensive filtration system for your home and tell you this will take care of the dust in your home. The TRUTH is that the filtration system they sell you can only filter out the dust that stays air born long enough to make it back to the filters' location. Their system will benefit you to some degree BUT, wouldn't it be better to keep excessive amounts of dust from enter your home in the first place! We like this approach much better.

If your looking for Honest TRUE answers to the unique problem set your experiencing in your home then you need a Contractor that is able and willing to perform the required testing of your home. Without the testing you will never know exactly what is happening in your home. Call the Air Conditioning and Heating Contractor of choice in Melbourne Florida today for a FREE estimate and you'll be one step closer to the service and comfort you deserve. We will repair your a/c correctly, the first time.

As a smart consumer we encourage you to take some time out of your busy day and educate yourself on what you should expect from an efficient home "system". Learn what the failure points are in your home structure and see what Allstate Air and Heat can do to help you correct these issues and restore your home to the comfortable space you deserve! Take a look at these exceptional videos and call Us at 321-298-4052 with any questions.

Home Comfort Educational Videos
THE WHOLE STORY
Finally!,...REAL Solutions
Our experience and true Christian business ethics save you money. With highly trained and skilled service technicians we will diagnose your systems problem and get you up and running quickly. Quicker resolution to your system's problem means lower labor charges on your invoice. The faster we can get your system online and cooling you, the faster we can get to the next customer thats dealing with Florida's hot Summers!

Our thinking is that NO ONE deserves to be uncomfortable in their own home. Your air conditioner needs to be serviced by an air conditioning company that will work on your equipment as if it were their very own home a/c system. Hire an Air Conditioning and Heating Contractor in Melbourne Florida that cares about YOU and places your needs FIRST!

---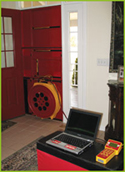 ---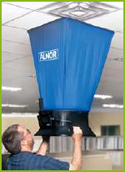 Your home and A/C equipment function as a complete "System", ideally providing you with clean, dry, comfortable air. Testing your home for structural leakage and duct performance is the only TRUE way to know what your Air conditioner is really dealing with. The truth of the matter is that your home a/c could be wasting huge amounts of energy cooling your attic and not your home, pulling in contaminants from your attic into your home, or be over or under sized for your needed cooling and heating capacity. Testing your home will provide us with a clear picture of how efficient your present "system" is. Without this vital baseline to work from there is no way to know exactly what size equipment you need or what the real issues are that may be causing discomfort to you and your family. By testing your home you will be able to know just how much it is costing you at present for air conditioning and heating supplied to your family, and you will be provided with an educated/test proven estimate on what your cooling and heating costs COULD be for your home and family.


If your present Contractor is not providing you with home and duct performance testing results then he's guessing what the issues are OR even worst, he may not even be aware that a problem exists,....all at your expense.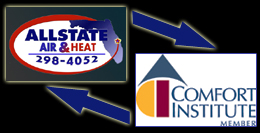 ACTIVE SPECIALS
SPECIALS AVAILABLE RIGHT NOW!
Our specials are designed for you to save money! We're constantly updating the specials below to best fit your needs and your budget.





Our Maintenance/Service Agreement special lets you save on annual air conditioner maintenance and operation costs and will also save you an additional 20% off on all air conditioner or heater repair parts should an air conditioning or heating failure occur!


On Duct Sanitation we offer you a complete duct system sanitation up to a 5ton system with ducted return plenum. 3.5 Ton systems to 5 Ton systems cost $20 more due to their more extensive duct design and components!




Our System Tune up special offers you a complete 29 point air conditioner and or heater system check-up, which includes (1)lb of FREE refrigerant should it be required to adjust the refrigerant charge to optimum air conditioning or heating performance.




This text is replaced by the Flash movie.
prevention

We'd like to be parked in everyone's driveway when that HOT day comes. Better yet, everyone should consider preventive maintenance as a way to save money every month and extend the life of their equipment. This way you can get the most out of your present unit and put off that HOT day as long as possible!
common questions

duct work sanitizing

As a Premier Air Conditioning and Heating Contractor in your local area, we are constantly looking to add services that provide comfort and "REAL" value to your living environment. Duct sanitation has tremendous benefit and is an incredible value! Sanitizing your duct work is a quick and painless process that kills mold, mildew, bacteria, spores, viruses, dust mites, etc. Call Us Today to schedule your whole home duct work sanitation!