ALLSTATE SYSTEM COUPON
OUR WAY OF SAYING THANKS.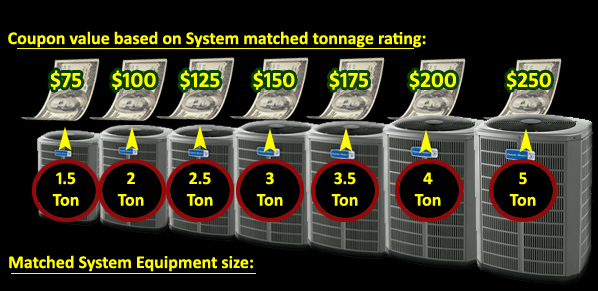 Review the diagram above to see just how much value your coupon will be. The coupons can be redeemed towards ANY COMPLETE System installation performed by our trained air conditioning and heating technicians and a/c systems installers. A complete air conditioning or heat pump system is composed of at least the following:


New Condensing Unit (outside unit)
New Air Handler Unit (inside unit)
New Copper line set (most cases)
New Digital Thermostat
New Hurricane rated pad (most cases)
There are many highly beneficial accessories that can be added the a/c system at the time of installation. As with all things, some are more beneficial than others. Here is a basic list of some the air conditioning add-on's or optional accessories that we offer at Allstate Air and Heat
Ultraviolet Lighting System (Kills Germs, excellent for allergy releaf)
Corrosion Grenade (Sacrificial Anode, extends the life of your unit)
Large Media Filtration (Much better filtration than standard 1" filters)
5" HEPA Filter Box (Merv 11 or higher filtration system)
Nest Thermostat (Absolutely Amazing thermostat, programs itself!)
Find Us on the list of Nest Certified Contractors!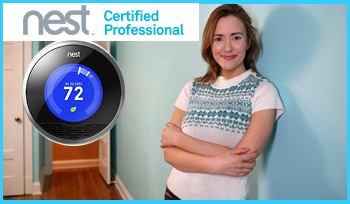 OUR MAINTENANCE PLEDGE
what you can expect from us
At Allstate Air and Heat, Inc. all of our trained air conditioning technicians are E.P.A. certified and are skilled at performing thorough preventive maintenance on all makes and models of air conditioning and heating systems. We'll make sure that your air conditioner and heater system are functioning properly, that your a/c equipment is running at peak efficiency and ' when necessary ' recommend necessary preventive measures that should be taken to ensure continued reliable air conditioning and heating operation. It doesn't matter if your system is old or new, if you are looking for routine maintenance or if you're system is in need of a major air conditioning or heating repair; Alsltate Air and Heat, Inc. will be there with your interests in mind assisting you in making the best decission for your family.
SERVICES OVERVIEW
what we will do for you
Our list of services is constantly evolving to better suit our customer's needs. Providing quick, timely response to every call is our primary objective. Through constant evaluation of our procedures and execution we are able to mold our service and installation efforts around the customer's needs. 100% customer satisfaction is the only acceptable outcome.
MAINTENANCE AGREEMENT
Lets get started saving you money!
We put together what we think is a fantastic deal for every homeowner out there. We're offering a (1) year Maintenance/Service Agreement that includes TWO Full (40) point System Check-Ups and a 20% discount on ALL parts including refrigerant! For a limited time the Agreement is only $139.00! It's a super deal that will pay for itself in energy savings, overall home comfort, and in extending the life of your system.

Simply click on the image of the Maintenance Agreement below and fill it out. Mail to our office with payment and we will contact you to schedule your first Maintenance tune up. It's that simple!