The Folcner Residence, Cocoa, FL
Allstate Air and Heat was hired to replace an inefficient central air conditioning system with a new Tax Credit qualifying, Heat Pump energy efficient system. Allstate Air and Heat and Amana come to the rescue yet once more.

This Customer opted for a programmable Honeywell thermostat. Taking into consideration the unique design of this historic residence, the system was installed in such a manner that the integrity of the structure was not altered in any way. Leaving the central duct system and return air location untouched. The outside condenser unit was moved to the side of the home in an effort to reduce noise. The Amana condenser installed is one of the quietest pieces of air conditioning equipment made in the industry. By moving the unit and installing a top quality super quite condenser unit, the back porch can now be used for entertainment with no interruptions.

A new copper line set was pull for three important reasons. The first was to remove any possible failure points due to old material. The second reason for replacing the copper line set was to remove any possible chance of contamination from the old equipments oil type (R22 systems use different oil than the new R410a system). The new system operates on R410a refrigerant and requires a different oil type,...the two different oils are harmful to the equipment if it is introduced to the wrong system. Finally, due to the change in the outside condenser unit's location it only made sense to route a new line set to its new location.

A new plywood deck was installed in the existing air handler unit's location. All duct connections were sealed to ACCA National Standards. A Whole Home Comfort Checkup was performed prior to the new system installation as we as a complete heat load "J" manual calculation in order to perfectly match the RIGHT air conditioning system to this unique home.

The installation was a complete success.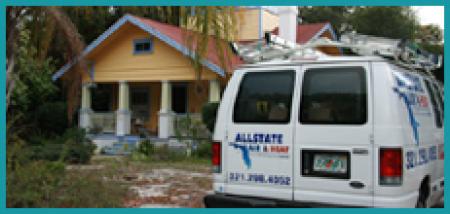 PAST PROJECTS
recent projects list
The list below includes both commercial and residential installations that Allstate Air and Heat has completed in the recent past. We pride ourselves on doing whatever it takes to make the customer 100% satisfied after the sale!